If you own a commercial property, the spring months are the perfect time to rejuvenate your building.
As the weather gets warmer it awakens inside us a desire to brush off the cobwebs and start afresh ready for the summer months.? The winter has probably been tough on your property and a good spring clean will keep it looking great and feeling comfortable for your tenants.
Make your commercial building an attractive place to work both inside and out with our top spring cleaning tips for owners of commercial buildings.
Freshen up its external appearance
General maintenance of your property?s external appearance will improve its kerb appeal and give it a better reputation locally.? This kind of quick maintenance tasks makes the world of difference to how your building looks and how its tenants feel about coming to work!
A few jobs that can help brighten up the building include caulking windows, freshening up the paintwork, pressure washing the exterior walls and pavement, and cleaning or updating signage.
Maintain air conditioning units
If your air conditioning units have been redundant during the winter months, it?s a good idea to have them cleaned and serviced prior to the weather warming up to make sure that everything is working as it should be.? A well-maintained air conditioning unit will work more efficiently and provide tenants with better indoor air quality.
Professional window cleaning
Whether or not you usually use a professional commercial window cleaner, no spring clean is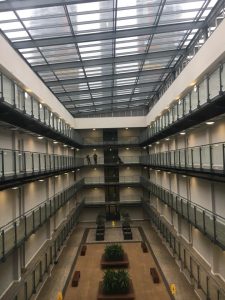 complete without getting your windows really squeaky clean.? The cleanliness of your windows is extra important as they can be seen from both inside the building and out.
We are proud to be an award-winning window cleaning company here at Archer Window Cleaning.? As an established company that has been providing a first-class service for over 25 years, you can rely on us to consistently provide high-quality results and a professional service. If required, we can also provide building maintenance services such as jet washing and gutter cleaning.
Deep clean carpets and flooring
Give carpets a breath of fresh air and revitalise hard flooring with a deep clean to create a more hygienic and attractive place to work. Most damage to carpets and flooring occurs during the winter months when rain and mud are likely to be trodden in daily, so the spring is the perfect time to refresh them. Deep cleaning at least once a year can help extend the life of flooring that is otherwise expensive to replace.
Upholstery cleaning
Office seating gathers dirt, dust and crumbs very quickly, making it the perfect breeding ground for bacteria.?Dirty upholstery looks unsightly and can easily be avoided with a yearly professional deep clean.
If you?re looking for a professional window cleaning company give us a call here at Archer Window Cleaning on 0161 870 6503 to receive a free quote on your job.