Our team at Archer Window Cleaning employ the latest window cleaning technology to provide our commercial customers with the highest quality service possible. The Hot Water ladderless Reach & Wash pole system allows us to clean windows to an exceptional standard, even in difficult to reach places. It provides greater flexibility while providing a better clean for your windows, whilst reducing the risk of injury as our window cleaners work safely from ground level.
Call 0161 870 6503 for FREE demonstration.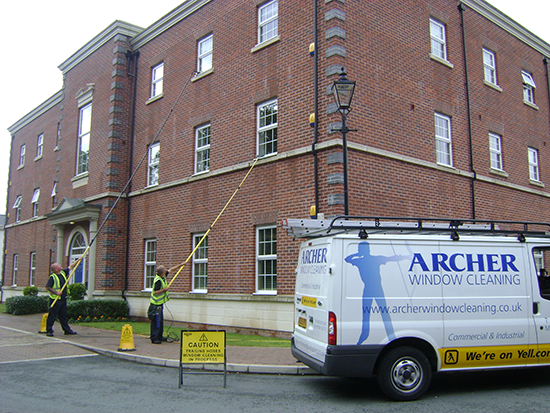 How does it work?
To put it simply, the Reach and Wash system is an extendible water-fed pole with a soft brush attached to one end. These brushes are kind to surfaces whilst carrying out a full deep clean of all commercial properties to provide excellent results without causing damage.
Our team are fully trained and qualified to use this system, as they have all completed courses held by the British Window Cleaning Academy. Archer Window Cleaning have a fleet of windows which can arrive on site with hundreds of litres of purified water in each vehicle to carry out all tasks.
What are the advantages of the Waterfed Pole System?
The Reach and Wash Waterfed Pole System is an effective method of cleaning windows, atria, panelling, cladding, signs, canopies and fascias, as our team can work from the safety of the ground with no need for ladders or high access equipment. Using this system, we can reach previously inaccessible areas with ease and even reach windows above sensitive ground such as lawns and flowerbeds. The Reach and Wash system also used pure water, with no chemicals or detergents used to clean commercial windows. Pure water is a better choice for window cleaning, as tap water contains minerals that can stain or cause streaks on your windows, which we appreciate is not the look that you will be after. The Reach and Wash system is also fully compliant with all window cleaning Health and Safety Regulations.
Ensure that your company is operating within the law and choose ladder-free window cleaning carried out by Archer Window Cleaning. There really is no safer way to clean high-level windows.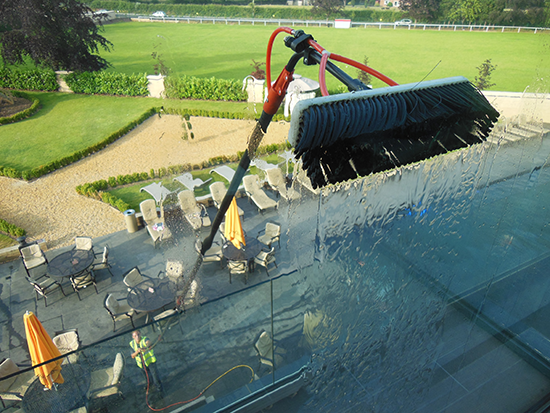 Contact Archer Window Cleaning today
To arrange a FREE demonstration of our Reach & Wash System, please contact us by calling 0161 870 6503 or email us at info@archerwindowcleaning.co.uk.
You can also contact us using our contact form, and one of our friendly team will be in touch as soon as possible to discuss your enquiry.