Archer Window Cleaning are specialists in high-level window cleaning and building maintenance for commercial properties throughout Manchester and the North West. When dealing with the tallest commercial buildings, we use our abseiling window cleaning and rope access skills to ensure all windows are professionally cleaned to a high standard.
In recent years, there has been an increase in the number of commercial high-rise buildings built in the UK, making abseiling and rope access an essential and integral part of our business. Abseiling and rope access window cleaning allow us to offer minimal disruption, great proximity for a more effective clean and a safe access solution for all our clients.
With over 25 years experience, we have built solid relationships with property management and facility management companies throughout the UK. Our great reputation has allowed us to work on numerous large-scale projects, providing commercial building maintenance through abseiling window cleaning in Manchester and throughout the North West.
All our staff are trained specialists in abseiling and rope access, ensuring a high quality clean and maintenance can be achieved on the tallest buildings. If you are unsure on whether your property can be abseiled, we provide additional services for alternative cleaning solutions.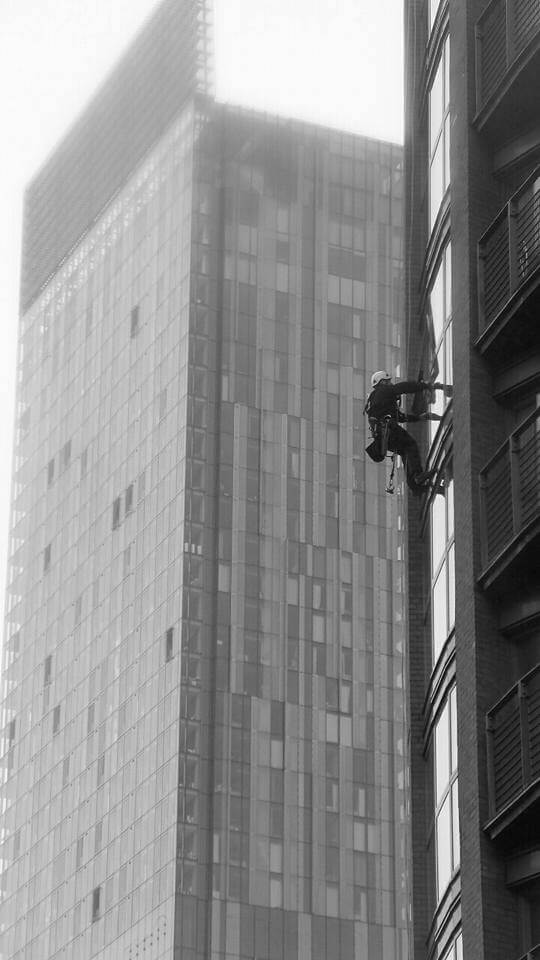 Archer Window Cleaning Services can provide building maintenance including:
Bird Spikes
Bird Netting
Banner Installation
Why choose us?
At Archer Window Cleaning, we provide rope access to office buildings, apartment buildings and all other commercial structures. Health and safety are always our main priority as accredited members of both CHAS and SAFEcontractor. We take all practical steps to identify and remove any potential hazards and risks, ensuring the safety of employees, clients and members of the public.
We take pride in the high-quality services we provide and offer reliable services you can depend on. To find out more information on our abseiling and rope access commercial window cleaning services, get in touch with us today on 0161 870 6503 or email us on info@archerwindowcleaning.co.uk. We look forward to hearing from you!