Why is Regular Solar Panel Cleaning Important?
Manufacturer's warranties and government guidelines recommend solar panels are cleaned annually as a minimum requirement. Around 25-50% of your solar panels efficiency is lost when dirt, dust and rainwater residue are present on the panels, which will block out the sunlight.
Regular cleaning will maintain your investment, and it will last longer. Regular solar panel cleaning will also maintain your manufacturer's warranty.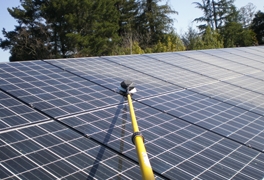 Solar Panel Cleaning using Purified Water
The solar panels will stay cleaner for longer when purified water is used as chemicals and detergents leave a thin layer of sticky residue.
Purified water contains no chemicals or detergents.
Safe Solar Panel Cleaning
Our telescopic poles with soft brush heads safely clean the solar panels, whilst not applying too much pressure. As we do not use chemicals or detergent there is no risk of damaging the solar panels.
We arrive at the site with purified water in all of our vehicles.
Environment
We are concerned about the environment, and this is why we use heated purified water, eliminating the need for detergents or chemicals. We use about 10% of the amount of water needed to simply hose the solar panels down from a standard on-site water supply.
Solar panel maintenance lengthens the lifespan of solar panels, chemicals and detergents shorten the lifespan of glass and rubber seals. Pure water cleans and rinses away damaging chemicals or dirt and leaves nothing that can shorten the lifespan of the solar panels.
Areas Covered
Archer Window Cleaning Services provide solar panel cleaning in Manchester and throughout the UK.
For more information or for a free quote on solar panel cleaning services, please call 0161 870 6503.